A PLUG & PLAY LICENSE PLATE
RECOGNITION (ANPR/ALPR/LPR) SOFTWARE
Instant ANPR/ALPR/LPR data from your
traffic video stream
● ANALYZE LIVE OR RECORDED VIDEO STREAMS IN REAL-TIME
● IDENTIFY VEHICLES BY SMART VIDEO TRIGGERING
● RETURN ANPR/ALPR DATA WITH COUNTRY-SPECIFIC DETAILS
GET A PRICE QUOTE
LEARN MORE






ADD VALUE

TO YOUR BUSINESS WITH ANPR/ALPR/LPR TECHNOLOGY
WITHOUT THE HASSLE OF SOFTWARE INTEGRATION
Carmen GO® is a ready-to-use ANPR/ALPR/LPR application that lets you transform any live video stream or recorded video
into ANPR/ALPR/LPR data in less than 3 minutes from the first installation.
Why use ANPR/ALPR/LPR? Know and value your returning customers by plate.
Increase security. Automate access control systems.
Make better decisions based on accurate statistical data. The list goes on.
Scroll down to discover more benefits ↓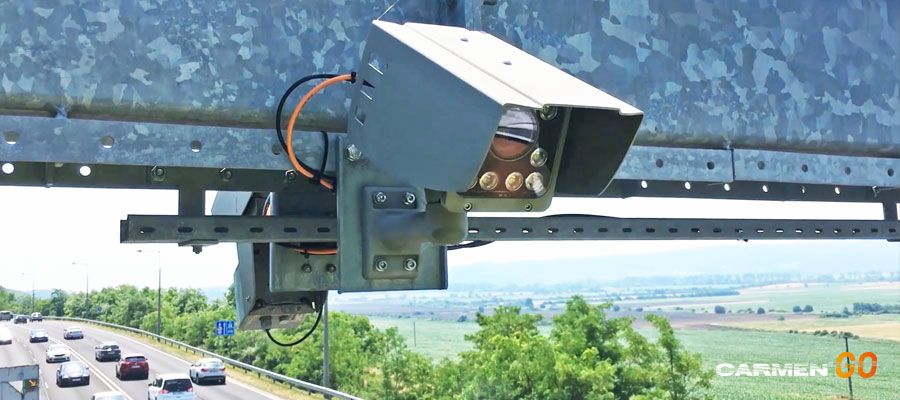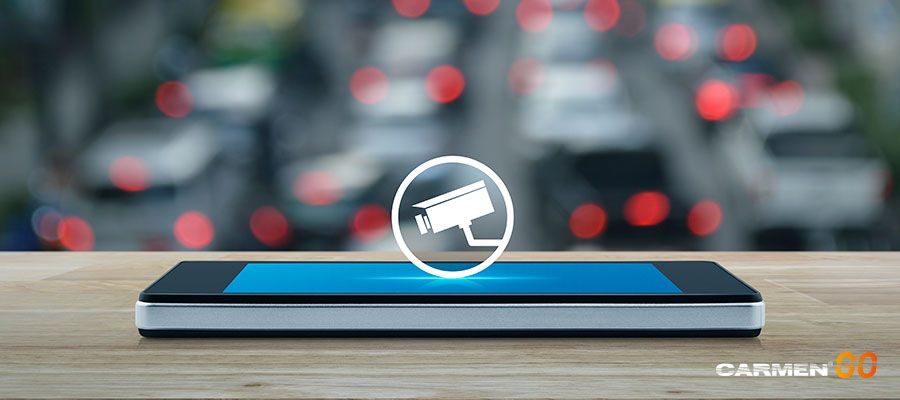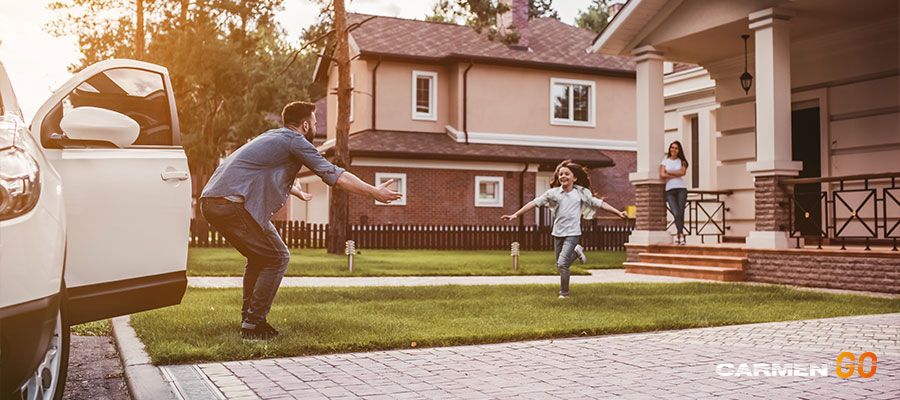 ANPR/ALPR/LPR-based systems keep roads and properties safe by reading the plates of entering/exiting vehicles. They detect speed and traffic violators, reducing the number of accidents.
Traffic monitoring systems help avoid traffic jams, ease the operation of toll & border control systems, and offer convenient access control at any public area or private property.
COST EFFICIENCY & AUTOMATION
Automatic vehicle identification systems reduce




staffing need, saving money for your business while creating new efficiencies.

Carmen® GO accepts any standard video stream from any digital camera.
Simply select camera type, enter its IP address and login details, then specify the data output format and location via the intuitive, user-friendly interface. Setup is done.

2. AUTOMATIC LICENSE PLATE RECOGNITION
The intelligent vehicle detection algorithm facilitates video triggering, automatically identifies vehicles, and reads their license plate.  The software recognizes 33,000+ plate types from more than 160 countries.

3. OUTPUT IN VARIOUS FORMATS
Extracted data is automatically sent to remote locations or saved locally. Output data includes license plate number, country code, image IDs, and date & time.
Carmen GO® turns video streams to instant ANPR/ALPR/LPR results in only 3 steps.
Easy-to-use

 interface and
smart functions designed to make your life easier and your business thrive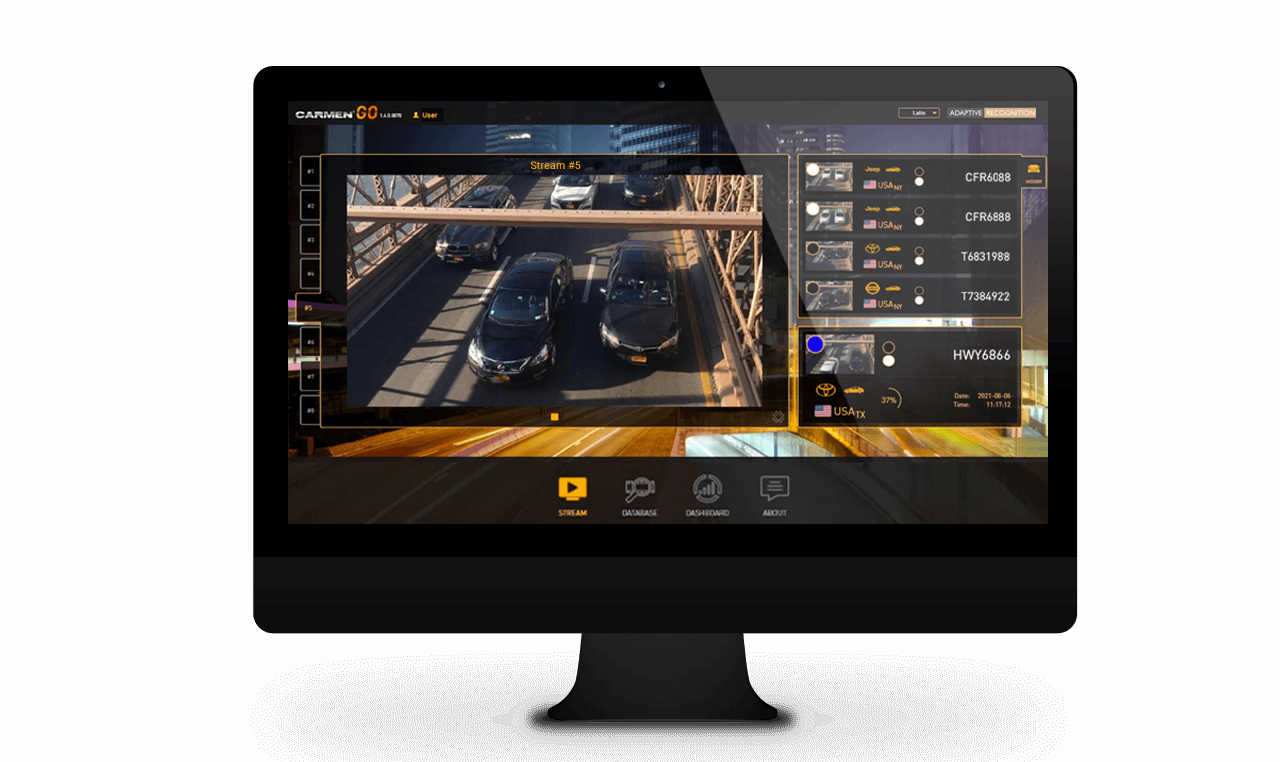 STREAM SELECTOR
Process multiple streams at the same time. It can be multiple lanes of a road or entry / exit lanes of an area.
SETTINGS
Select the ANPR/ALPR/LPR engine, set field of interest and various other settings to adapt the software capabilities for your application.
LPR RESULTS
Carmen® GO utilizes the world leader Carmen® license plate recognition engine, developed by Adaptive Recognition. All types, alphabets and countries are supported.
LIVE VIEW
See what's happening on the road. The passing vehicles are automatically recognized with the state-of-the-art Vehicle Detection technology and only those images are processed which include the license plates.
DATABASE
All events are saved and stored in the internal database or automatically transferred to a pre-defined server. REST API access is also available.
Product Highlights
Features that make Carmen® GO a cut above the rest
The software is not linked to a brand or camera model. It is compatible with any existing digital camera system (which has http or rtsp stream)
Works out of the box, no need for programming and integration. Easy setup, instant ANPR/ALPR/LPR results.
INDUSTRY-LEADING ANPR/ALPR/LPR ALGORITHM
Carmen® GO  utilizes the industry-leading Carmen® license plate recognition engine, boasting the highest available accuracy and support of 33,000+ plate types.
MULTIPLE STREAM PROCESSING
According to your license type, the application handles up to 8 separate streams and processes their data parallelly.
The Carmen® GO deep learning algorithm ensures that no plates remain unread, regardless of color and characters.
AUTOMATIC VEHICLE DETECTION
No need for a triggering system. Thanks to CARMEN® GO's pioneer Vehicle Detection technology, pre-selection is software-based.
CSV data file, direct FTP upload and also local database options with REST API access.
Easy-to-use, requires no special skills, everyone can learn the hassle-free operation within minutes.
You can connect to your Carmen® GO system on any browser, tablet, or smartphone to view all events live.

Carmen® GO supports the following video file/stream formats: MKV (H.264), MP4 (H.264), ASF (MPEG4), MJPEG, AVI (H.264) and camera stream protocols: HTTP, HTTPS and RTSP.

Microsoft Windows® 10 - 64 bit OS versions. One free USB 2.0 / 3.0 port or Mini PCIe port for the required NNC hardware key.

Output data includes number plate characters, country/state information and event image. Output formats are: CSV datafile and FTP upload. Internal database (JSON format) is also available and accessible through rest API.
MOST

ANPR/ALPR/LPR

SOFTWARE

COME IN THE FORM OF SDK AND REQUIRE INTEGRATION.
Carmen® GO is

DIFFERENT

.

It is a ready-to-use, plug & play application that runs on Microsoft Windows®
and requires no

software integration.
It takes less than 5 minute to install and
immediately produces reliable ANPR/ALPR/LPR results.
Carmen® GO helps you:

SAVE ON DEVELOPMENT RESOURCES
No need for programming or complex integration. The system is plug'n'play and ready to use.

As there is no need for development, your project can start sooner, and deadlines can be scheduled better.

CARMEN® GO works with any digital camera system (which has http or rtsp stream). There is no need to upgrade your existing system or to acquire new technology.
CARMEN® WORLDWIDE
SUPPORTED COUNTRIES
33,000+ known plates from almost every country and region globally.
Powered by the Industry's Number 1 ANPR/ALPR/LPR engine: Carmen® by Adaptive Recognition
CHECK IF YOUR COUNTRY IS SUPPORTED: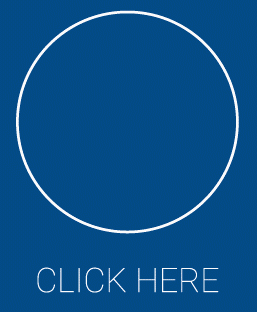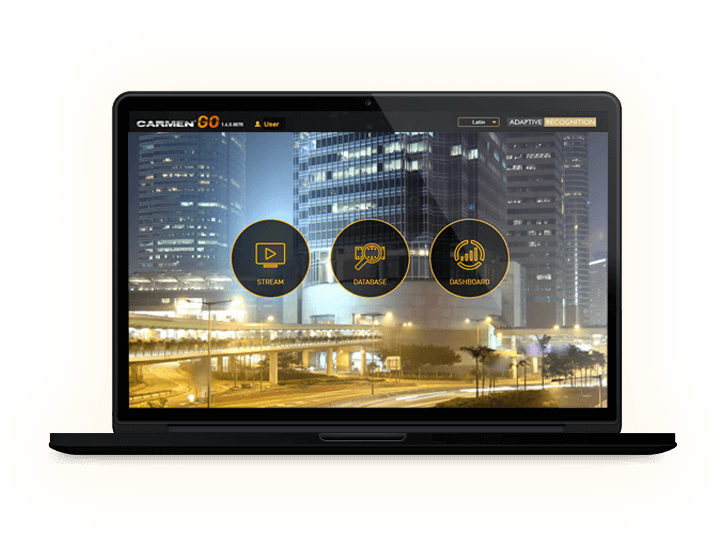 Carmen® GO SOFTWARE APPLICATION
An easy-to-install
and ready-to-use software with an ANPR/ALPR/LPR engine.

HARDWARE PROTECTION KEY
A USB dongle that protects
the software's operation.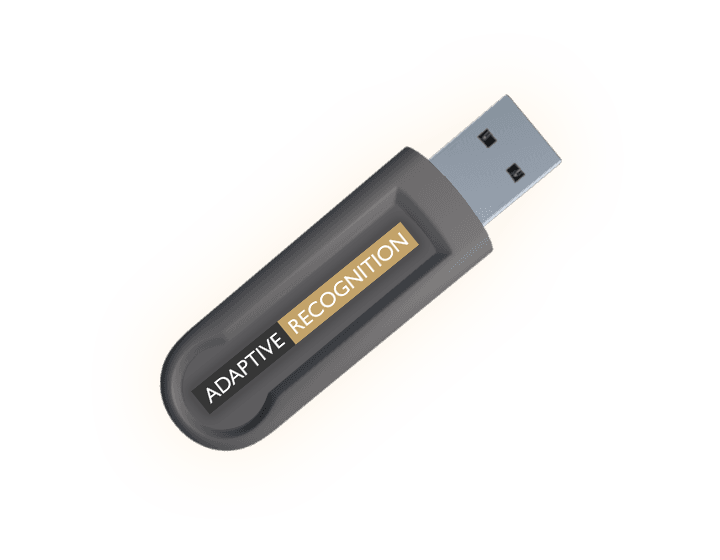 By purchasing Carmen® GO
YOU WILL GET
For USING Carmen® GO ALL YOU NEED IS:

IP CAMERA(S)
Any network camera model
by any vendor.

PC OR SERVER
A Microsoft Windows® 10 PC
or server with storage.
frequently asked questions
"Carmen® GO is easy to use and offers a cost-efficient alternative to conventional LPR solutions. If you don't do programming, the setup takes only 2 minutes and it immediately produces LPR results – but it can be used as an integrated module, too: using its API we managed seamless integration with 3rd party systems such as drive-off prevention solutions. These systems have the highest recognition rates we have seen so far, opening countless business opportunities across various industries."

Image Analytics Pacific
"The use of the Carmen® engine has produced a very manageable, predictable, cost effective ALPR solution which ATS utilizes as a valuable, technology based efficiency component, of the services we offer our customers."

American Traffic Solutions
"We supply, install and integrate ARH technology for the detection of vehicle registration ANPR in toll stations and parking systems in the Republic of Colombia, with success and complete satisfaction for operators of concessions and users of ITS projects. The DEVITECK projects include ARH cameras and Carmen recognition engine with performance above 98%."

Deviteck
"Carmen® is our main plate recognition engine and all numbers plates are submitted to it. We are completely satisfied with Carmen® which we consider as one of the most efficient among all, and we also appreciate the partnership with ARH employees. They manage to conciliate reactivity and efficacy whatever the question is."

Atos Worldline
Contact Us
Any questions? Get in touch with us for advice or a quote using the form below.
"*" indicates required fields